Ronco Octopus Grip, Black Nitrile Examination Glove (6 mil)
Ronco Octopus Grip gloves are a range of specially designed gloves for optimum grip in both dry and wet environments. The raised innovative diamond texture on the palm and back of the glove gives them a unique look and provide unparalleled grip for the toughest jobs out there. The reverse texture on the inside of the gloves helps air circulate. This helps keep your hands drier and allows you to wear the gloves for longer periods of time.
Ronco Octopus Grip gloves are ideal for a variety of applications including in the Automotive industries, Janitorial services and a multitude of Industrial applications. With excellent tensile strength and flexibility, these gloves are the preferred choice for tough jobs across a variety of applications.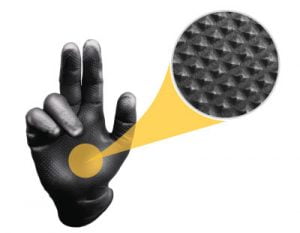 Superior chemical resistance
100% latex-free and powder-free
Medical examination grade glove
Excellent strength and superior elasticity
Diamond-Textured for strong grip and handling
Strong black color that hides away dirt and grime


Product Details
| ItemNo | Size | Material | Donning | Colour | Thickness |
| --- | --- | --- | --- | --- | --- |
| 762S | Small | Nitrile | Powder Free | Black | 6 mil |
| 762M | Medium | Nitrile | Powder Free | Black | 6 mil |
| 762L | Large | Nitrile | Powder Free | Black | 6 mil |
| 762XL | X-Large | Nitrile | Powder Free | Black | 6 mil |
| 762XX | XXL | Nitrile | Powder Free | Black | 6 mil |
Packaging
| Item # | Packaging Configuration | UPC |
| --- | --- | --- |
| 762S | 50 Gloves x 10 Dispensers = 500 Gloves Per Case | 00628670576221 |
| 762M | 50 Gloves x 10 Dispensers = 500 Gloves Per Case | 00628670576238 |
| 762L | 50 Gloves x 10 Dispensers = 500 Gloves Per Case | 00628670576245 |
| 762XL | 50 Gloves x 10 Dispensers = 500 Gloves Per Case | 00628670576252 |
| 762XXL | 50 Gloves x 10 Dispensers = 500 Gloves Per Case | 00628670576269 |
Applications
• Assembly / Finished Goods
• Automotive
• Beauty / Cosmetology
• Chemical Handling *
• Chemical Processing *
• Commercial / Institutional Laundry
• Customs / Correctional
• Dental / Hygienics
• Electronics
• EMS / Paramedics
• Environmental Services
• Fishery / Aquaculture
• Food Preparation
• Food & Beverage Processing
• Food Service
• Freight / Transportation
• Funeral Services
• General Cleaning / Maintenance
• General Labour
• General Purpose
• Equipment / Machinery Operation
• Hospitality
• Housekeeping
• Industrial / Manufacturing
• Inspection / Quality Control
• Institutional
• Janitorial / Sanitation
• Laboratory / Clinical
• Landscaping
• Long Term / Home Health Care
•Maintenance
• Manufacturing
• Meat / Fish / Poultry Processing
• Medical / Examination
• Painting
• Petrochemical Handling
• Pharmaceutical
• Printing
• Recycled Material Handling
• Shipping / Receiving / Stocking
• Tool & Die
• Veterinary
• Warehouse / Inventory
• Quality Control
• Military / Law Enforcement
• Security
• Tattoo and Body Art
• Power tool handling
• Retail• Grocery Stores
• Butchers
• Night Time or Low Visibility Condition General Work
• General Material Handling
• Oil and Gas
• Agriculture
• Chemical handling
• Engineering
• Paint spray
• Hygiene
Compliance
Literature & Tools